Social Network for pets
The best moments of your pet forever be with you.
Is there anything funnier than pet photos?
On Flockr's social network, you forget about problems with the cutest timeline.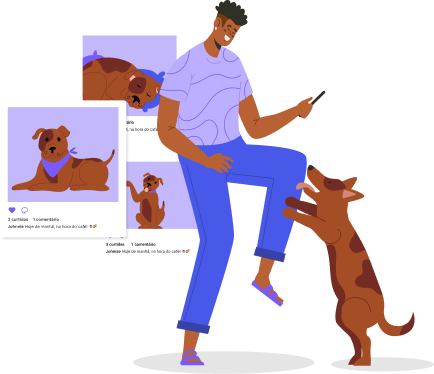 A super app for your pet
Awesome features to help your pet throughout its life!
Feed
Interact with pets from all over the world! Post the best photos of your pet and distribute likes and comments!
Notifications
Did your pet get a like? You find out. New follower? Also! Stay on top of your pet's profile with notifications
Profile
All photos, organized, in a beautiful profile! In addition, we show the breed and species along with your pet's biography.
Walkings
The walks with your pet are now even more fun, track the time and distance of the walk through Flockr and share it with your friends in the app and on all social networks!
Walking your pet is very important!
Walks are of great importance to animals and bring many benefits. While you enjoy the ride with your pet, Flockr records this information and you have the ride summary to share with friends, in addition to keeping your health up to date.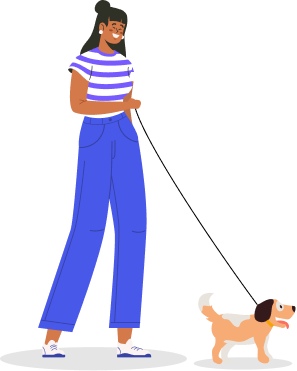 Thousands of people are using the app
People all over the world use and recommend Flockr
Loved by Apple
Our app is often featured in the App Store because of the quality of our product
Loved by users
The app has thousands of reviews and a 4.9 out of 5 rating.
"Being able to compile all my dog's health information in one place, since she is chronically ill (visceral leishmaniasis) and has many exams. This is information that is easily accessible when I take her for a consultation every 6 months, such as the date of heat, date of the last medication, date of replacement of the flea collar, name of the food she is eating, adverse reactions, etc."
"I've been using Flockr for a while now and I love it. It helps me keeping track of all my 3 pets. Every info I need is right there!"
"Lots of endorphins from seeing cute pets Just going in and seeing pictures of lots of pets makes my day so much better"
"I just love this app! I can't stop liking the photos of different animals that are recommended. the functions are simple and intuitive, without major problems to understand the commands. the community is also very nice. ❤️"
"Very useful! Their life in the palm of our hands, I have it installed on my cell and on my daughter's, we're both adding things related to our dogs"
Flockr Premium
Go to the next level with your pet care, track expenses, add files, and more!
Meet Flockr Premium